Click Image to Enlarge
Mocean Approach Bike Patrol Shorts
Code: mocean-approach-bike-shorts
---
---
---
Product Description
•••••
Mocean Approach Specialty Bike Patrol Shorts 1150
The Approach Short is one of the original MOCEAN designs that has set the standard for patrolling on bikes and ATVs. The fabric combination of DuPont Supplex and MOCEAN's X-Factor fabric work together to create a fit that can be worn tight or relaxed. The fit remains true and nonbinding because the X-Factor rear panels stretch as your legs pump-up. This provides a consistent fit and maintains comfort and performance. The crotch rise is even designed to "mount and dismount" without snagging on the seat. The pocketing is straightforward and designed for optimal function. Approach Shorts and Pants are a unisex fit.
For a Correct Fit - Please See Our Mocean Sizing Chart
Special Features of the Mocean Approach Bike Shorts:
Supplex nylon w/Teflon HT shell in front with X-Factor inlay in the seat
Can be worn loose or snug fitting with 8-inch inseam or the longer 9" inseam
Varied Fit Waist half fitted/ half elastic waist with a zipper fly, snap closure and Floating Beltloops
Gusseted crotch for ease of Mocean
X-Factor is used in the seat area for superior protection getting on and off the bikes
2-J slashed "Reservoir Pockets" that allow easy access while wearing a duty belt
2-cargo pockets with gusset and zipper closure
1-pen pocket with two pen ports
2-back pockets with zipper closure and flaps
Double needle top stitching w/ bartacks on all stress points
About Mocean's X-FACTOR Solution:
What is X-Factor? It is a stretch, plain weave fabric that is woven with a purposeful balance between hand, function and durability. "X-Factor's" stretch properties are achieved through the blending (tri-blend) of three high quality yet, different yarns.

Why a woven tri-blend? The combined properties of the fibers that make up this advanced stretch fabric make it highly abrasion resistant and tough to snag.

Is it water repellent? Yes. X-Factor is water repellent due to its unique fiber combination. Moreover, this water repellency will last lor years because it is innate to the fibers and not a spray-on barrier.

Will it retain color?: The combined properties of X-Factor make it an incredibly stable fabric that will retain its color for years to come. Over time its hand gets even better.

Will it Fade?: No. Garments made from Vapor Pique will not fade because it's knit from 100% polyester yarns. Unlike cotton and cotton-blends, polyester is known as one of the most durable and colorfast yarns.

What are advantages of X-Factor? It is easy to care for and incredibly versatile. X-Factor allows Mocean to design and consistently deliver a garment that maintains its form, function and fit, even after daily use. The bottom line is: You get more patrol hours per garment with MOCEAN's X-Factor.
Fit Guide for Waist Size of Approach Shorts:
X Small: 26-27
Small:28-30
Medium: 31-33
Large: 33-35
X Large: 36-37
2X Large: 38-41
3X Large: 42-44
4X Large: 45-46
5X Large: 48-50
Mocean Sizing Chart: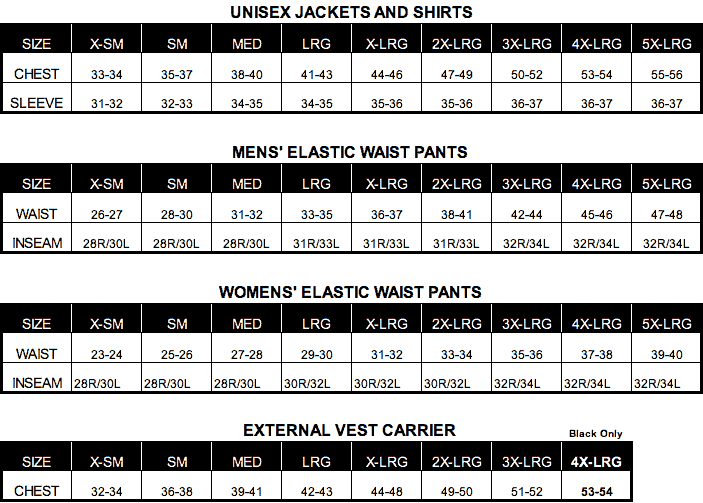 Product Reviews
Customer Reviews (1) - Average Rating:
Mocean Approach Bike Patrol Shorts, 6.11.2011
The Shorts have a nice fit to them. The Shorts handle the rough abuse on patrol. Originally Posted on June 11, 2011
Reviewer: joe t. (minneapolis 55418, MN)