Montague Folding Police Bikes
The Montague Military Folding Bike line has been designed for Desert stealth mobility.
In order to achieve this goal, Montague had to develop ground mobility that is tough enough to drop from a plane; durable enough to traverse any terrain, move at high speeds and require minimal maintenance. In addition, this bike must be easy enough to fold into a portable size yet agile enough to unfold in seconds. The result of these goals and requirements is the Montague Paratrooper.
Originally designed solely for the military, the Paratrooper is now available for professional use and is an excellent choice for Police, Security and EMS use.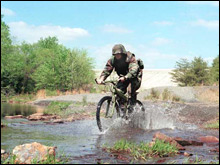 The Paratrooper mountain bike was developed by Montague, in conjunction with Defense Advanced Research Projects Agency (DARPA) to bridge an important gap between walking infantry and heavy military vehicles. See more photos of the folding bikes in action.
The Paratrooper is a full size, 24 speed mountain bike designed to endure any terrain at high speed, in silence with no heat signature. In addition to the high performance feature, the bike folds simply without the use of tools. By turning one quick lever, the Paratrooper folds in less than 30 seconds into a 3' x 3' pack that can be dropped from a plane, strapped to the side of an LAV or thrown in the back of a trunk.
Montague Corporation is pioneering the use of its Folding Integrated Technology (FIT), deemed to be one of the next-generation trends in the bicycle industry. Recognizing the importance of this folding technology for military use, DARPA partnered with Montague Corporation to design 'next-generation' ground mobility.

To date, the military bike has not been available outside of the DARPA development circle. Now, due to an overwhelming demand from military groups, emergency patrols and many civilians, Montague has decided to manufacture the original Military Bike in the form of the "Paratrooper" for military use.
This folding bike will easily fit in a Patrol Car and can be pulled out with ease to patrol in areas where two wheels make more sense than on foot or in a car. Imagine needing to Patrol a park, campus or dense neighborhood without being immediately noticed as an officer. Simply drive your patrol car to the area, unfold your bike and off you go!