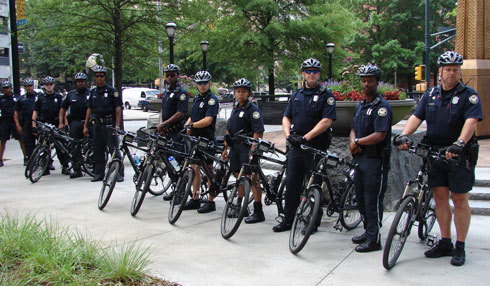 The Atlanta Georgia police department with their new Fuji bikes from Police Bike Store.
---
I just purchased 25 Fuji Code 2 patrol bikes for my agency from Police Bike Store. Michael provides superior customer service with great communication and attention to detail. I started issuing the new bikes this week and my guys are raving about their new rides. I highly recommend this company for large purchases and government procurement.
David Fromme, Charles County Sheriff's Office, Maryland
---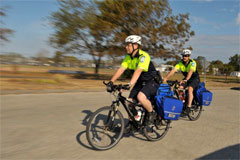 Got the bike in the mail the other day and assembly went well today. This bike is really nice, like the updated grips and overall look of the frame. It has been great doing business with you.
Michael R. Salvatore, NREMT-P/EMS-I
Westport Emergency Medical Service
---
Hello, I just wanted to drop you a line to say THANK YOU and YOU GUYS RULE!!!! I placed an order with you and within 3 days, I had my shipment already! I just wish that you were a full fledged law enforcement supply store---there are some websites out there where it takes 2-3 weeks before my simple order comes in. So, thanks again and anytime I need bike supplies whether for work or pleasure, I will come to you.
Thanks,
Amanda Wilson
---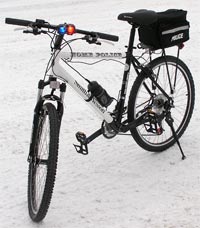 Mike, thanks again for your help in building our unit. Yes, that is snow you see but it should be gone within the next month...or two! We have a big school safety assembly today and tomorrow and I wanted this for the event. Your work was a great help!
Warm regards,
Paul Burke
Chief, Nome PD
---
Hi Mr Michael, I received today the bike. It is superb (what I saw)!!!!! I'm so happy and glad. I can't wait for the weekend to assemble it. Thank you for your HONESTY AND TIME with me, it is greatly appreciated.
Thanks also for the bar ends. I'm very grateful, thanks a million again, Pascal !!!!!!!
See you, Pascal
---
Michael, Just a follow-up. Bike is assembled and rides great. It is perfect for patrol activities. Thanks for your guidance. Great bike.
Michael Paulin
---
I believe everyone complains when service is bad but never compliments when service is good I would just like to say your company is very different from others not only do you process orders very quickly which I like but you keep the customer posted about there shipment I love that and wish every company did this you company has excellent customer service great job to the people who are personally taking the time to do this I will surely return soon to purchase more merchandise fromyour company due to how well I am being treated as a customer right now.
Ryan Griggs
---
I just wanted to say Thank You It is very valuable and important to me that I can speak to a person and not a machine. I appreciate the fact you will take the time to speak to a person that is a lost art form now days with companies. ( People have loyalty to people-- not machines)
Officer Dan Disney
---
I just wanted to let you know how appreciative I am of your great customer service. I received my bike on Friday last week and it was in excellent shape and is awesome to ride. Furthermore, I appreciate you passing along the shipping info for my lights which should arrive soon. Thank you again, and I hope to do business with you again.
Sincerely,
Matt H.
---
I've had some amazing success with the Fuji Police Patrol and Niterider light/siren system.. Just this past Saturday night I was called to escort a vehicle containing a 2 year old child who had fallen into a campfire and sustained full body second degree burns through a large crowd just being released from a dance hall. The Fuji bicycle performed phenomenally allowing me to reach a speed of 32mph, and the wigwag Niterider patrol lights in combination with the Niterider siren parted the crowd with ease. As a result the paramedics were able to bring the 2 year old girl out of shock and administer treatment quickly enough to minimize tissue damage.
The patrol cycle has proven itself as an invaluable tool for which I am very thankful.
Also, I attached a picture of myself and the cycle.
Thanks,
Chris
---
I credit you and your company for exceptional Customer Service and professionalism! Have a wonderful and safe weekend!
Respectfully,
Mary L,
Defense Supply Center
---
Bike is all put together and looks great. Thanks for your excellent service. We'll have it in use this weekend.
Jed D.
Jackson WI PD
---
We received the bikes on 10/09/06. And we have the helmets. The officers are happy. Thanks for such prompt service and I will surely recommend you to other departments.
Jan M.
Fayetteville, NC Police Department
Return to the Police Bikes homepage