Articles, TV Shows, News and Movies are featured below that show merchandise purchased from Police Bike Store.
---
Our Equipment and Bikes are Featured in 21 Jump Street, the Movie
A pair of underachieving cops are sent back to a local high school to blend in and bring down a synthetic drug ring.
Directed by Phil Lord, Chris Miller. Starring Jonah Hill, Channing Tatum.
---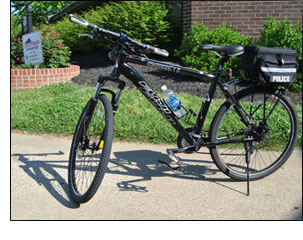 Fighting Crime in a New Fashion
Austin Peay State University Campus Police and the Chief of Police, Terence Calloway, add four Fuji Code 1 Police Package bicycles to their arsenal against crime.
Providing a community aspect to policing, getting into places where other vehicles aren't able to, and being more visible are several advantages that come along with adding the new bicycles.
"It narrows the gap between the students and campus police," says Chief Calloway.
Five officers, including Chief Calloway, are certified and trained by the International Police Mountain Bike Association. During a weeklong training course, the IPMBA provides training in sudden stops, riding up and down stairs.
---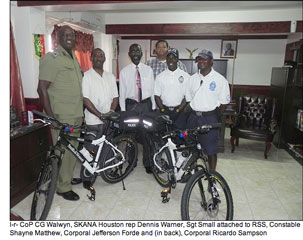 St. Kitts-Nevis Association of Houston, TX Donates to Police Force
The St. Kitts and Nevis Association of Houston, Texas has donated two bicycles to the Royal St. Christopher and Nevis Police Force.
"It's such a good feeling when you are in a position to give back in some way to the country and to the people of St. Kitts-Nevis. We will be looking at more ways we can assist in the future."