International Police Mountain Bike Association
The Seattle Police Department has deployed its bike team in a number of situations. The tactics and techniques described below are some of the crowd control.
Website: www.ipmba.org

Law Enforcement Bicycle Association
LEBA was formed in 1987 with the birth of modern day police cycling in Seattle, Washington. LEBA provides a high level of training to bike officers. They do it the "LEBA Way" with an established bike patrol training curriculum. They strive to constantly update their techniques to keep pace with the continually changing requirements of law enforcement.

---
Seattle Police Department Bike Patrol Unit
Today hundreds of police departments across the country have bicycle patrol units based on the Seattle Police Department's program which began in 1987. In 2005 the department started testing the use of BlackBerry PDA's with bike patrol officers. The PDA's allowed officers on the streets and trails instant access to police records when the use of regular mobile data computers are not available.
University of Wisconsin - Milwaukee Police Department
We have a number of certified trained officers with the International Police Mountain Bike Association (IPMBA). Officers on bikes will enable our department to work with students and faculty to make the area safer.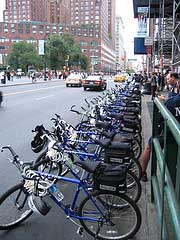 Laurel Police Department - Bike Patrol
The Department currently has nine bicycles and eleven officers trained for police bike patrol. View photos of bike patrol officers while doing the regular bicycle patrol.
IU Northwest: University Police
The department currently uses 24 police bikes. These are specially built bikes sold only to police departments. They have heavy-duty componentry and are available with lights and other equipment.
FLPD - Bicycle Patrol
In 1992, then Sergeant Richard E. Perez, formalized the Fort Lauderdale Police Department's Bicycle Patrol, starting with two donated bicycles with sirens attached.
Bike Patrol bikes
One of the most popular patrol innovations adopted by the university police department is the Police Bike Patrol Unit. In 1992, Oakland University became one of the first forces in the Bay Area to use Fuji Police Bikes.
Bicycle Patrol-Marietta College Campus Police
Community Policing offers many benefits to the students as Campus Police Officers patrolling on bikes are also helpful for directions and safety in general.
The Emory University Police Department, a division of Emory Community Services employs police officers who patrol the Emory community on marked mountain bikes with police lights.
Police Department for The City Of Portsmouth, NH
Portsmouth Police Department uses 10 Police Bikes and has plans to purchase 11 more.
Police Department - Third Street Promenade Bicycle Unit
Patrolling on bikes also allows officers to maintain close contact with citizens. The Santa Monica Police Department deploys many bicycle officers throughtout the year.
The Holden Arboretum Police Department
An agreement between the HAPD and the Kirtland Police Department started using Bike Officers in Spring of 2001. the Arboretum police are getting on to the trails for the bulk of their riding and patrols.
WNEC Bike Patrol Unit
Because police officers on mountain bikes have access to the public more easily, they play a vital role in enhancing the relationship between the Department, students and staff.
Police Department : Bridgewater State College
This year the BSC Police Department was fortunate to host a COBWEB course. BSC Police bike officers are equipped with their full duty belts, lights and equipment.
City of Claremont : Bicycle Police Department
The Claremont Police Department utilizes bike patrols to fulfill its mission of total community policing objectives. Our bike patrols have been found to be very effective in deterring crime.
Police Department - City of Kent, Washington
The Kent Police Department is launching a new program using bicycles as a deterrent.
Police Department : Bike Patrol
All three of our officers attended a week-long Police Mountain Bike Certification School, which was hosted by the Cedar Rapids Police Department.
SSC Campus Police
The bicycle is a mountain bike specially equipped (police lights and accessories) for Police patrol.
Lakewood Lore - Bicycle Patrols - Police Dept.
At the end of 1918, the police department's annual report recorded: "... told about the Seattle Police Department's recent successes in using bikes ..."
SUNY (State University of New York) Plattsburgh Police Bike Patrol
Also in 1997 the University Police Department at Plattsburgh hosted its 1st New York State Certified Bike Patrol School. We certified 14 riders from the program and also count on IPMBA and LEBA for training and instruction.
Oswego Department of Police - Bike Patrol
The bike program is one of the many aspects of the Oswego Police Department. It was started in August of 1998 and has been growing since.