MaxPatrol-600 Bike Patrol Light by C3 Sports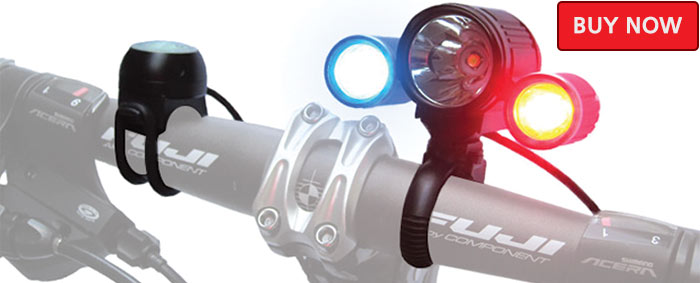 The MaxPatrol 600 Police bike light has been developed after many years of listening to the input of riders from all facets of the bike patrol community. The main theme we kept hearing was that everyone wanted a light that is powerful, small, efficient, simple to operate and long lasting. We believe we have designed the perfect solution for night-time patrols and are pleased to be able to offer it at an affordable price. Click here to Order
The Max Patrol Features:
Super Powerful CREE LED center white light with an impressive 600 Lumen high beam and a 240 Lumen low beam.
Extremely Bright Side Beams with CREE LEDs for pursuit lights. Wig-wag flash pattern measuring 200 Lumens per side.
Available with Red/Blue, Red/Red, Blue/Blue and Amber/Clear Pursuit Colors
Special California Version now available with a Solid Red/Flashing Blue pursuit mode.

Easy to Operate:
With a control pad that quickly mounts on your handlebars near your grip, there is no need to have to move your hands to operate the light. Click here to Order
One button controls the headlight and optional flashing red part of the taillight.
Second button controls the pursuit light in the front and those in the optional taillight with one push turning them on and a second turning them off.
No need to cycle through functions you don't need or want.
The lights can operate together or independently of each other. Use just the headlight, only the pursuit lights, or use all three together. The touch pad has two buttons.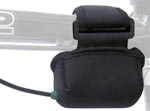 Rechargeable Battery:
The 6600Mah Lithium Ion battery quickly attaches to your top-tube and does not take up one of your water bottle holders. Long lasting and comes with a fast smart charger. Click here to Order
Quality Construction and Design:
The Max Patrol is crafted out of 6061 Aluminum for a strong and lightweight unit.
When not turned on, the light system looks like a regular bike light so there is nothing to tip-off anyone that you are an Officer making this a great light for undercover work.
Optional Taillight:
Due to demand, we created a taillight that can be added to the headlight system. It runs on the same battery and is operated by the handlebar switch. When the taillight is connected, if you have the center headlight on high or low beam, the taillight's center beam will flash red as a very bright commuter safety taillight. When you push the pursuit button the side lights on the taillight will also flash in a pursuit mode with the front lights. The colors of the LEDs in the back will match those in front. The taillight is constructed of the same high-quality 6061 aluminum and mounts to the rear rack of the bike. Click here to Order
Code 3 Sports MaxPatrol-600 Specifics:
Output Center Low Beam: 240 Lumens
Output Center High Beam: 600 Lumens
Output Side Lights: 400 Lumens
Weight: 196g
Modes:Center Low/Center High, Side Lights Flashing
LED Brand: CREE LEDs
Battery Type: Lithium Ion Rechargeable
Runtime Low Beam Center: 14:00 Hours
Runtime High Beam Center: 4:30 Hours
Runtime Side Flashing Lights: 8:30 Hours
Runtime Low Beam with Flashing Side Lights: 5:00 Hours
Runtime High Beam with Flashing Side Lights: 3:00 Hours
Battery Charge Time: 2:30 Hours
Color: Black
Warranty: 1 Year for the light and 6 months for the battery